CANNA RHIZOTONIC
30 ₾ – 933 ₾
CANNA RHIZOTONIC A powerful Biostimulant for increased root development and stress relief. provides the plant with the right balance of trace elements and vitamins
CANNA RHIZOTONIC provides the plant with the right balance of trace elements and vitamins to enhance the development of the rooting system. Healthy roots help the plant take up all the necessary nutrients to increase general plant strength and improve the internal and external quality of the crops.
CANNA RHIZOTONIC is ideal for:
Cuttings and plants that need to be re-potted
Unhealthy and badly developed plants
Plants which have suffered shock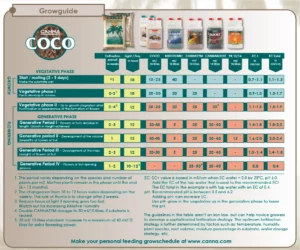 Directions of use
Shake well before use
Dissolve 40 ml concentrate per 10 L water (1:250)
Use 1-6 times daily to the cultivation medium and/or spray directly on the leaves until a strong root system has developed
When re-potting, one should pre-treat the growing medium with this solution
Set the pH of the nutrient reservoir after adding CANNA RHIZOTONIC as it will slightly increase the pH
The results of CANNA RHIZOTONIC are better with low EC, if necessary only use CANNA RHIZOTONIC during the first few days (without fertilisers)
Storage, health & safety and other directions
Keep out of reach of children
Over fertilisation has a negative effect on the substrate, the plant and nature in general
CANNA RHIZOTONIC is 100% plant based and suitable for all growing media like soil, coco and hydroponics
Do not use together with hydrogen peroxide products
Store closed in a dark and frost-proof place
Permitted in organic farming under Regulations (EC) 889/2008 and 834/2007
The packaging is made of Polyethylene (PVC and cadmium free), a recyclable plastic.
| | |
| --- | --- |
| features | 1 L, 10 L, 125 ml, 250 ml, 500 ml |